---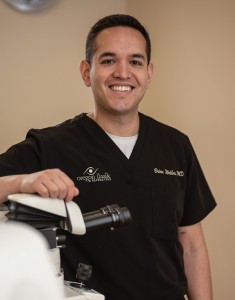 Dr. Brian Walker graduated Summa Cum Laude from Brigham Young University. He then attended medical school at University of Texas Health Science Center in Houston and subsequently completed ophthalmology residency at Louisiana State University in Shreveport.
Dr. Walker is an expert in LASIK/refractive surgery having been mentored by Dr. Haines himself. Dr. Walker is committed to utilizing the most up to date technologies to better serve patients. He is certified on performing the most up to date no blade LASIK with the most up to date lasers.
In addition, Dr Walker is also an expert cataract surgery, minimally invasive glaucoma surgery (MIGS), plastic surgery of the eyelids and eye laser procedures such as YAG capsulotomies and selective laser trabeculoplasty (SLT). Dr. Walker is able to diagnose and treat all manner of medical diseases of the eye; such as glaucoma, diabetic retinopathy, macular degeneration, etc. Dr. Walker also performs femtosecond assisted cataract surgery using modern technology to help achieve the best outcomes for his cataract patients.
Dr. Walker continuously strives to stay up to date and frequently attends conferences, seminars and reads the most up to date information in medical journals. Dr. Walker has published multiple articles, journal chapters, and case reports in the literature himself.
Philanthropy
Dr. Walker has dedicated hours of service to those in need, performing free eye care including screening for medical diseases and screening for refractive errors/glasses prescriptions. He has traveled to various countries to screen/provide care/nutrition for malnourished children in various countries with the Bountiful Children's Foundation. Dr. Walker is dedicated to continue to help those in need as best he can.