---
iLASIK is Within your Reach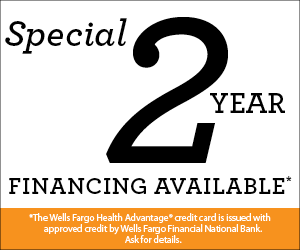 Money shouldn't be the reason you're putting off having the iLASIK procedure. We know that the simple saying, "you can't put a price on great vision" doesn't change the fact that you have to find a way to pay for the procedure.
Ask yourself …
Have you wondered how much you spend annually on contacts and glasses?
What do you spend on supplies for your contacts?
Have you evaluated the lifetime costs of contacts or eyeglasses?
Are your contacts uncomfortable?
Do you realize how much time you spend cleaning and caring for your contacts?
What will that cost you in medical fees and productivity over a lifetime?
We also offer financing through Care Credit or Wells Fargo Health Advantage. Call our office today for more information.
Legal disclaimer. iLASIK IS A MEDICAL PROCEDURE WITH RISKS INVOLVED AND ISN'T RIGHT FOR EVERYONE. INDIVIDUAL RESULTS MAY VARY. TALK TO YOUR EYE DOCTOR AND CONSIDER BOTH THE RISKS AND BENEFITS BEFORE HAVING THE PROCEDURE. The material contained on this site is for informational purposes only and is not intended to be a substitute for professional medical advice, diagnosis or treatment. Always seek the advice of your physician or other qualified healthcare provider. For additional information, please visit the FDA's page about LASIK.