---
When you choose a surgeon to perform LASIK surgery, you want experience and expertise. Dr. John H. Haines is one of the area's most experienced ophthalmologists and the first eye surgeon in Eugene, Oregon to offer bladeless LASIK vision correction. Dr. Haines is a Board Certified Ophthalmologist and holds the position of Assistant Clinical Professor of Ophthalmology at the University of Utah Health Sciences Center.
The son of Methodist missionaries, Dr. Haines was born in Malaysia and has traveled and lived throughout the world. He attended medical school at the Medical University of South Carolina in Charleston, graduating with honors in 1987. He is a member of Alpha Omega Alpha, the national medical honor society, which honors the top graduates from medical school.
Dr. Haines was voted Eugene's Favorite Eye Surgeon in the 2011 Register-Guard's Reader's Choice Awards and has performed thousands of eye surgeries.
In addition to his work with LASIK refractive surgery, Dr. Haines is one of the first doctors in Lane County to perform laser cataract surgery. He also specializes in plastic surgery of the eyelids, lens implantation, treatment of glaucoma, geriatric eye care, and diabetic diseases of the eye.
He is dedicated to continuing medical education and often speaks at conferences on such topics as ocular genetics, refractive surgery, and neuro-ophthalmology. Dr. Haines has published numerous papers in ophthalmology journals and other health journals.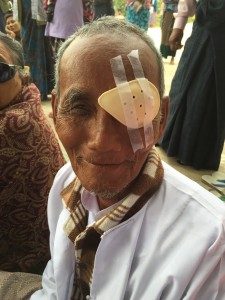 Dr. Haines holds a special interest in ophthalmology in developing nations. This comes from witnessing firsthand the desperate need for healthcare in these countries. For the last 24 years, Dr. Haines has conducted annual missions to a variety of countries around the world to perform cataract removal surgeries free of charge, as well as to teach local ophthalmologists new techniques to better serve their citizens.
In 2011, Dr. Haines and his wife, Joy, set up the Give Me Sight Foundation to channel additional funding to provide even more cataract removal surgeries.